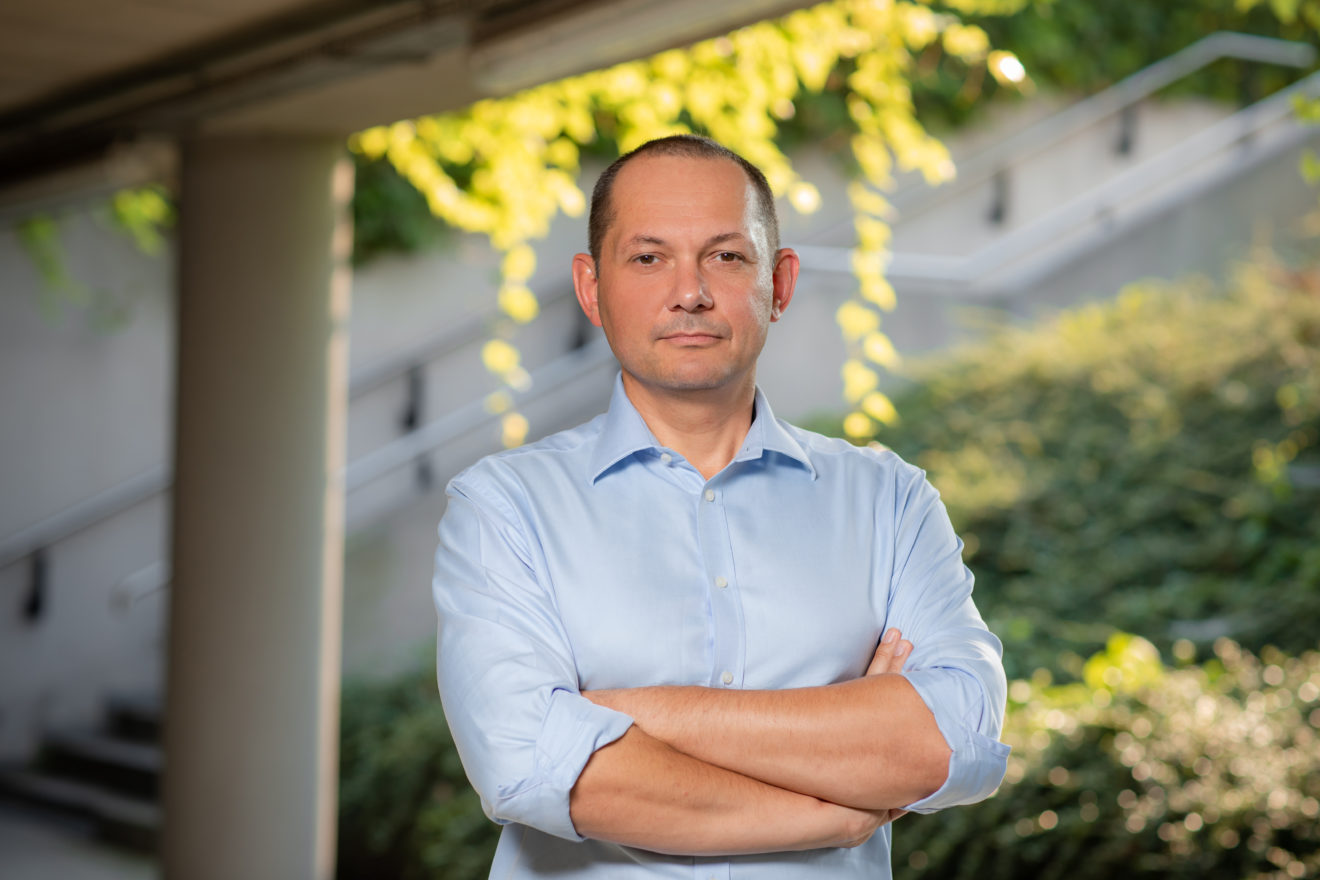 People disappear from a public space where are too many cars!
Aneta Gieroń: In recent months, coronavirus has slowed the economy in Poland and around the world. More and more countries are having the biggest economic declines over the last several decades. COVID-19 impacted our lives and ideas about functioning in public spaces. To what extent has it shaken the construction industry in wider meaning and thus the architectural market?
Maciej Łobos:  We had a massive bump from mid-March to the end of April, when we all locked ourselves in houses. It was a time of lack of knowledge and expectation of what was going to happen. Truly dramatic time. After the May weekend, we gave up remote work, which in our sector simply does not work – no daily exchange of thoughts, ideas, team creation – and we all returned to work in the office. Creating architecture is an outstandingly team work, and new ideas always require meetings, talking, discussion. Without this, there is no question of creative work. Since May we have a lot of orders. We are in the process of developing previously ordered projects, there have been a lot of new investors in recent weeks and these are plans for really big investments.
Related to the housing, office and industrial sectors?
Mostly with residential and office construction. At the moment we are working on more than 30 projects, and a large part of them appeared in the last six months.
What clients are returning to the investment market at the time when analysts are talking about an increasingly difficult housing market, which is related, among other things, to the lack of interest of students who do not return to college in October. There are also not many employees from both the eastern border and professionals who have been employed in the automotive and aerospace industries in our region – both manufacturing sectors are recording record declines and layoffs. Equally difficult is the housing market, where banks have become much more demanding of mortgage customers.
A risk-free society exists only at the cemetery. In business nothing is certain, and risk is an integral part of it. The main factor that makes properties sell very well and new investments are planned is the escape by many investors from cash. The low interest rate policy makes it not profitable today to keep money in the bank – at the current level of inflation, people with large amounts of cash lose a lot of money every year. In addition, there are foreign funds that invest money in our country, because for them it is still a better solution than the negative interest rates they have at home. They also are accelerating increasing changes in the construction market, such as prefabrication. The buildings are made up of finished elements produced in the factory – on the construction site the foundations are poured, and the rest is assembled from the finished elements. This is how the whole Europe is built today, and interestingly, quite a few of these prefabricated products are produced in Poland and delivered to Germany, Denmark or Sweden. This reduces personnel costs on the construction site, where instead of 50, for example, 10 workers are sufficient. This speeds up lead time and improves quality.
In Poland, there is still no professional market of apartments for rent, but this awaits us in the upcoming years. It is also the domain of specialized companies and funds. People who rent the apartments increasingly pay attention to the space around the house and if they do not like it, in a year they are willing to rent a better apartment, because it is much less a challenge than changing the purchased apartment. At different stages of life, depending on our needs, we need completely different apartments and staying for 30 years in a 48-meter M3 apartment is absurd. In western Europe, rental housing dominates the market and it seems that in Poland in the upcoming years we expect the same.
In conclusion, there is still a lot of capital on the market, secondly, housing needs in Poland are still huge. These causes that there are a lot of investment and investors.
Are these investments orientated to build quickly, much and cheaply? Or perhaps more thoughtful for a demanding and wealthy customer?
Even in the biggest crisis, luxury goods sell perfectly.
Nevertheless, we still do not have a really luxurious apartment building in Rzeszów.
That's true, there is no such offer in the capital of Sub-Carpathian region. The demand for premium housing is really high, but it's still a niche. I am referring to well-located apartments, that is, in the very centre of Rzeszów, 5-10 minutes from the Market Square, from where in the evening you can walk for dinner to the centre, cinema or theatre. It must be a relatively small building, because no one wants to pay a dozen thousands PLN for square meter of the apartment in a block with 100 neighbours. When I talk to customers, I often hear that they are willing to pay up to 20,000 PLN per square meter, but for a really comfortable apartment with 3-4 parking spaces in an elegant and relatively small building, and above all expensive enough that there will be no apartments for rent for students or short-term stays. The luxury customer group is attractive, but very demanding and with a tailor-made offer. We must also remember that rich citizens are the economic basis for maintaining the city centre. Without them, the city centre will die, which in Rzeszów can be seen especially clearly. In the neighbourhood to the immediate vicinity of the Market Square, the city extincts in the evenings.
What is build the most?
As always, there is a huge interest in high buildings in a good location, where there are a lot of small apartments – with an area of up to 50 sq. m. that sell best. There are also customers interested in plots located much further from the centre. Properties for families are created attractively there, in a quiet, intimate area, close to greenery.
The phenomenon of high blocks, which are created on the smallest plots of land in the very centre of Rzeszów, has to do with the ease of sale of such apartments?
Paradoxically, all or most of us want to live close to the centre. This is a magnet that attracts and guarantees that every day we can move there on foot or by bike. Many services and entertainment facilities are located in close proximity, and in addition, we have constant contact with people, which we also need. We want to live close to greenery, water, close to people and … in the centre. It is a paradox which, contrary to appearances, is possible to achieve.
In Rzeszów, the city centre can be really well managed, and not necessarily with high blocks. All the more that because within Rzeszów's "ring", which is created by the ring roads: Batalionów Chłopskich, Powstańców Warszawy, Armii Krajowej, there are so many areas for revitalization that thousands of people would find their place to live without having to connect agricultural areas that need to be connected, provide utilities, etc.
Revitalization has been talked about for years and nothing has happened in this topic.
So maybe it is the high time to look closely at this problem. To begin with, it is enough to take a map of the city and circle industrial areas, warehouse areas and those that need to be revitalized, such as garden plots, military units, the areas of former Zelmer company, Siemieńskiego Street, Boy-Żeleński street, etc. This gives us several hundred hectares under investments. The same applies to the Wisłok Valley. There is a natural need to live by the greenery and water, but if we do not create a legal framework for these areas, we will soon lead to complete chaos in the area. For each of these areas, we should develop a concept of what could be created there. Each of these locations must be a micro-scale town that has its own service centre, some job places, greenery, school, nursery, etc. The idea is that their inhabitants do not have to go to the other end of the city to meet the basic needs.
Most cities in the world face the need for wise and good revitalisation, but the problem is that those in the lead of civilization – Copenhagen, Amsterdam, New York or Sydney – matured enough long time ago to solve such problems. The consultants, who make assumptions for good architectural and urban concept are hired, and then we know how to manage the area optimally and most interestingly. Even Moscow, after coming up against a brick wall, was forced to take such actions. In Poland, the spatial planning process is still – to put it mildly – crippled. The Study of Conditions and Directions of Spatial Planning (SUiKZP), most commonly referred to in a nutshell as the Conditioning Study, is a very general document. In Rzeszów, the study is more than 20 years old and only now the city is trying to create it from the beginning. The local plans are usually too detailed and their procedure too stretched over time. To make matters worse, there is nothing between the Conditioning Study and the Local Spatial Development Plan.
It is also not very clear what the assumptions of the plan come from, because the process of its creation is not transparent even for a professional, not to mention ordinary residents. That is why I will always state that a detailed architectural and urban concept – which in the world is called the Master plan – is needed, and it should be the subject of public discussion. The Study and the Plan should only be created at the next stage, as a legal legitimization of what was presented in the Master plan.
Do we still do not want to acknowledge that architecture is not construction, but humanistic science?
For architects, the matter is a tool and a material, just as a hammer and marble was for Michelangelo. When we put next to each other a marble block and Michelangelo's heel asking what is worth more, no one doubts that the heel. We have the matter into which someone has put talent, work, and spirit. It's the same with architecture. Architects do not deal with pouring concrete. The most important thing is the thought, the matter is material. Speaking about the city, we cannot think only of bricks, steel and concrete. The city are the buildings and life that revolves around them.
The question is how many architects, and above all how many investors, see or want to see life among buildings …
This is an essential issue, and more and more often we will all have to see it. Space and what surrounds us has a fundamental impact on us and our lives. Copenhagen is the best example of how the space interacts with people. 40 years ago, residents stayed there on the streets 2-3 months in a season time. Today they are in the open air 9 – 11 months, even in such cool climate. Why? Because the environment has changed for better. Today, Danes can drink coffee wearing down jackets and wrapped in blankets, because they feel great on the streets, in the surrounding space.
Once again, I return to the statement of how important architecture and space are in our lives.
People start noticing that something bothers them in their surroundings, although they can't always define what the problem is and what needs to be done to improve it. The space in which we live shapes our lives.  People do not realize what effects on their well-being, health, social relationships, how they work, has an environment in which they function on a daily basis.
This is why many excellent architects, when asked where to learn architecture, breathlessly mention Venice, Rome, Copenhagen…
These cities are a feast for our senses, places where we are saturated with beauty. Unfortunately, we are saturated also with ugliness and pathology. The proverb "who keeps company with the wolves will learn to howl " also applies to the environment in which we are.
Each city can plan friendly space for residents. Of course, this is a process for long years, especially where the damage done is huge, but restoration of beauty and harmony is always possible. In Rzeszów we have powerful areas for revitalization, and thus a huge field for action. We have a chance to create a city that is friendly to people, and that would actually be a great innovation and something that could be praised all over the world. Cities around the world are fighting for points in the category "man-friendly city", because in such places people to live and investors and money are never too little.
Man naturally organizes the space around him/her?
Yes, it is divided into private, semi-public and public space. At home we can consider the bedroom as a private space. The living room, hallway and kitchen have public character. The same is with the place where we live. We consider the block with our apartment and garden to be a private space, but the quarter of the nearest buildings has a semi-public character. When we approach to our own neighbourhood, we feel that we are close to home. The rest of the city is perceived by us as a public space. Modernism took this tradition of community and close proximity, which gives a sense of security, threw in the trash and attempted to raise a new man. As a result, buildings that cause complete alienation were created, where leaving the house, we immediately enter a public, so no one's space. An example of this can be Nowe Miasto settlement in Rzeszów.
Another bad thing about our space is the primacy of cars?
The car is great for moving around the Wild West or in the Bieszczady Mountains, where it is far to the store or school. In the city the car is the worst and least efficient means of transport. Widening streets and increasing space for cars is a road to nowhere. The more streets, the more cars, the more traffic, traffic jams, noise and pollution. Even in China, it has already been quitting from that. A city good for life is adapted for pedestrian traffic and cycling. The cyclist rides at a speed of about 15 km/h, a man runs at a speed of about 12 km/h, that is, when riding a bike just like running we are still able to notice the exhibitions, people and get impressions. At car speed, we completely do not notice what is happening off the road (unless we stuck in traffic).
The mere presence of cars in space causes that people disappear from it. If the city is to be friendly to residents, it should have no more than 7% of the public space allocated to parking lots. After exceeding this number, people feel unwell and are reluctant to stay in such place. In a public space where there are too many cars, people disappear. When we remove the cars, the residents come back. This is a common phenomenon that works all over the world, regardless of culture or climate.
We may underestimate the importance of space in our lives, but we can see when something in our environment is working badly. In Rzeszów, the association "Razem dla Rzeszowa"("Together for Rzeszów") was established, bringing together 11 movements and associations which want to improve the spatial policy of the capital of Sub-Carpathian region. People do not want another skyscraper in the place of a playground at Nowe Miasto settlement or a block built by the windows at Grabski Street.
People start noticing that something is wrong, but they can't necessarily say what needs to be done to make it better. As always, the problem is lack of spatial planning in Poland, from government-ministerial level to municipal level. At the State level, general infrastructure planning begins. At the level of the provinces, strategic decisions on local railways, rivers, transport are important, until finally we have the municipality level, where decisions on residential settlements and individual buildings are made. After all, each of us understands that even our own garden needs to be planned somehow, set paths, think about where the pants will grow, what plants, etc. It's inconceivable how such need can be ignored on a city or State scale and expect that the space will somehow organize itself. Only weeds grow on their own. To create something good, you need a lot of effort and constant care.
Why most of the investments that have been made in Poland for years have been built on the Land Development and Management Conditions?
It is important to be aware that the Decision on Land Development and Management Conditions is a prosthesis introduced in the event of the expiry of local plans. Unfortunately, as usual, it turned out that there is no more permanent thing than a makeshift. This pathology has already lasted for 25 years and its end cannot be seen. Lack of spatial planning and construction chaos is the domain of third world countries.
Coming back to Rzeszów – in the case of such locations as, for example, the Wisłoka Valley, we should have had  a detailed concept of the development of these areas for a long time, on the basis of which a local plan and implemented investments would be created. Planning procedures in Poland take a long time, but even the longest journey starts with the first step.
In Rzeszów, for the first time in years we have seen effective protests by dissatisfied residents who oppose the chaotic construction of the city. May this affect the urban space of the capital of Sub-Carpathian region in the future?
It is a natural phenomenon that people begin to organize and articulate their expectations. They see that reality is bothering them, but I miss a clear message in these protests – what do they propose? The discussion is about contestation or blockade – we can't see suggestions for solutions. In fact, the only risen argument is the need to create local plans, which is the right argument, but absolutely insufficient, because yet these plans have to be good, and unfortunately their quality really few people can judge.
We must also be aware that changes in the law at State level are needed to improve the environment where we live. Friedrich August von Hayek, one of the fathers of modern liberalism, in his book "Constitution of Freedom" dedicated the entire chapter to construction law and city planning, where he explained precisely that the city is a place of overlapping various, often contradictory interests, and no uncontrolled investment element is possible. Whatever we would do on our plot, this action always affects the interests of the neighbour. That is why we have the right to spatial planning and construction law, to solve such conflicts in a civilized way, while taking care of the public interest.
What would have to happen, that we all feel responsible for the space?
The first step is to announce a large international competition for the development of the Wisłoka valley – the most attractive location in the city, which is a recreation centre for residents and very desirable as a place to live. Then we would get an answer as to what these areas could look like in their entirety. It would be clear what mass events can be organized by the Wisłok river, how to get there, what impact the development of these areas will have on hydrology etc. It is only on the basis of the decisions of the competition phase that changes to the Study of Conditions and Directions of Spatial Planning for these areas could be prepared. Such things are already happening in Poland (Gdynia, Katowice).
This year, after heavy rains in June and July, in Rzeszów under water were streets that had never been flooded before.
The more we concrete, the greater problems with flooding we will have, because it is impossible to build such a large rain water sewer to take over all the rainwater in the city, and even if all this water could be let into the river, it would still result in flooding in neighbourhood municipalities, because the river also has its capacity. The more we lead to "spread" the city, instead of compacting and concentrating it in the city centre, the more problems with water, infrastructure and communication will be. The climate is changing and we will increasingly have heavy rains – so we need to change the law so that most of the rainwater stays on the plots. It can be retented, used for watering gardens, lawns, washing garages, etc. There are many possibilities, but as always we need to take some first step. As the Japanese say, "you can't jump on Mount Fuji, but you can climb on it with small steps". I have the impression that in Poland we still have problem with crossing the doorstep …
read more: https://www.biznesistyl.pl/ludzie/wywiady/9712_.html