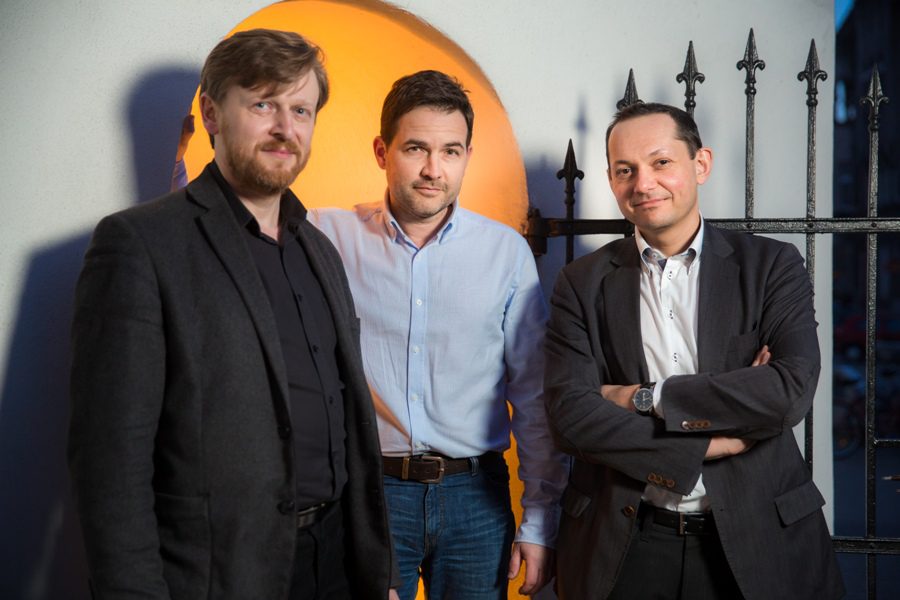 The Authorities of Rzeszow do not look at the city as a whole
Aneta Gieroń, Jaromir Kwiatkowski: Do you like the urban space of Rzeszow? You have been running the MWM Architects architectural office together for 15 years, so you are attentive observers, aren't you?
Marcin Smoczeński: Do we like it? Of course…
Maciej Łobos: For me it is not so obvious, unfortunately. I can see the pros and cons.
MS: Unlike my colleagues, I originally come from Rzeszow. Maybe that is why I look at this city a bit differently than they do, with more sentiment. In their place, I would probably be much more critical as well. In Rzeszow, memories surround me at every turn, and this obviously affects my assessment of reality. However, I am not going to hide that I would change many places and I do mean modern architectural and urban solutions. Rzeszow does not have rich historic and cultural heritage. It prides itself on being a city of innovation, but what this innovation is about, nobody can define exactly.  I will say provocatively and perversely that for me, innovation manifests itself in a public restroom and bushes in one of the most important squares, in front of the Lubomirski Castle.
What is the greatest asset and weakness of the urban space of Rzeszow?
MS: For me, the strongest points of Rzeszow are Aleja pod Kasztanami, Tekielski's tenement house, Lubomirski Castle areas and Dąbrowskiego Street: both buildings from the period of socialism and the construction of former Central Industrial Region. I always have a good feeling about those areas. In my opinion, Rzeszow is becoming a city of the second plan for some time. It consists in creating modern architecture in the second line of buildings in a various parts of a city which is not visible at all. If you do not know that it is there, you do not notice it – for example the buildings of the University of Rzeszow at Pigonia Street. And the weaknesses of Rzeszow. It is all that happens in the center and on the outskirts. I do not see a conscious spatial policy, which is a pity. There are no horizons for us to know where we are going.
What is the reason for this lack of horizons in spatial policy?
MS: There is a City Development Office, but I don't want to judge how it works. But certainly, more could be done in the city's spatial policy, with a vision of the future and in a much more conscious way.
Mr. Maciej, at the beginning of our conversation, you expressed your dissatisfaction with the city's spatial policy.
MŁ: I will perversely start with its advantages. Rzeszow is a city of optimal size for human life. It is so small, that you could walk across it in an hour, and the problem of traffic jams, compared to e.g. Krakow or Warsaw, is insignificant. Almost everyone knows each other in this city, which may be a disadvantage, but on the other hand, it increases the sense of security. All the services – theater, concert hall, shopping malls – are available on site. And  disadvantages of Rzeszow?  Let's start with the fact that this has almost no valuable monuments and material history that would surround us from everywhere. On the other hand, what has been spontaneously and quickly created in Rzeszow in the last 25 years is simply bad. There is hardly any modern architecture in Rzeszow. The late Professor Stefan Kuryłowicz said that architecture differs from construction in such a way that architecture is made not only to prevent rain from falling on our heads. That is why, although I am deliberately exaggerating a bit, I believe that there is practically no architecture in Rzeszow, only construction. In Cracow, Poznań and Warsaw, you can see tremendous progress, great modern architecture is being created, while we are still at the beginning of the road. It is worthwhile for the conscious marketing policy of the city authorities to take advantage of the fact that since we do not have too many monuments, at least let's start focusing on modern, beautiful architecture.
We have a modern, circular footbridge
MŁ: I am not a huge fan of it, but this example shows how big the hunger for new architectural structures in Rzeszow is. Some people like the footbridge, others don't, but since the construction of Polfa, nothing else has been built that could be considered a symbol of the city.
MS: For me, it is controversial, but definitely modern.
The round footbridge can be criticized and complimented, but the problem lies elsewhere: maybe it is built in the wrong place?
MS: It brings us back to the problem of the city's spatial policy. There are no long-term planning solutions in Rzeszow.
 Wacław Matłok: I come from Dębica, I studied in Wroclaw, so I got to know Rzeszow after my studies. In my opinion, around 2004, Rzeszow began to develop rapidly in terms of architecture and the investors began to expand. Ideas for large-scale galleries were born and if I were to compare the two largest in Rzeszow, Millennium Hall can boast of very good architecture. I am very much into functionalism and I see Rzeszow as a well-constructed communication structure. We can argue about architecture but it is all matter of aesthetic judgment. In the place where Galeria Rzeszow shopping mall was built, which you may like or not, as part of a competition organized in the 1970s for the development of the square around the railway, large-scale buildings were already planned. The biggest problem in that space is the traffic circle, where we have a huge loss of space in the form of separated pedestrian crossings which creates one of the greatest communication mistakes in Rzeszow. We have a traffic circle that is actually not a traffic circle and is constantly jammed. A normal crossing would function better there and would certainly give more space in front of the Galeria Rzeszow building. Additionally, an underpass that could be built there would prevent people from intersecting with circular motion.
MŁ: And that is how we have a mess there as well as wasted space and pedestrians which are crossing the "highway".
Two years ago, professor Jan Malczewski from the University of Rzeszow, that specializes in history of urban planning, spatial planning, protection and revitalization of historic areas as well as the sociology of the city and settlement, stated in the VIP Magazine that the urban space of Rzeszow is not governed by the mayor, but by investors. Maybe he was close to the truth, wasn't he?
MŁ: And if it was ruled by the mayor, it would be better? I do not think so. Instead of blaming others, I prefer to beat my own breasts. The fact that we have problems with architecture in Rzeszow is not the fault of investors but of architects.
Why is it like that?
MŁ: Because it is architects, not investors, who design buildings. If they have no talent, ambition or knowledge, then mediocrity is coming out of that and spoils the city for decades. I once talked to an investor and a neighbor of a plot in the historic part of Rzeszow, where we are currently designing a very modern building. A shocked neighbor tried to convince me whether it would be better to refer to the historical architecture in the project, and I explained to this gentleman that if I came to the meeting in lace, ruffles, white stockings and a triangular hat, I could be treated like a madman. The meeting itself took place in the historic interior, but all those present were dressed in suits and arrived in cars, not in a carriage with a coachman. Each century leaves a mark in space and it should be so, but an attempt of feigning historical monuments is a polish patent and it always results in total kitsch. Such a things are not being done anywhere in the world. We are currently working on several projects in the very center of Rzeszow. Local plan and development conditions are agreed with the restorer and there are many indications that these modern buildings in the historic part of Rzeszow are going to be built. The most important thing is fine architecture, which stems from the local context (and sometimes the lack of it), rather than styling on historical sites, especially as most things in the architecture of Rzeszow do not add up and an attempt at defining uniform style from above may only end being a disaster.
Is this eclecticism a strength or a weakness of the urban space of Rzeszow?
MS: I see it as a strength – it gives large scope for action on a great offers. The worst thing is to design under ideal conditions. It kills creativity. Difficulties force us to act, to look for interesting and non-standard solutions. In Rzeszow, we have such a space, peculiarity – and that is great.
Let us return in this context to the issue that shocked the inhabitants of Rzeszow in the last few months, i.e. the idea of demolishing the so-called Kotowicz's villa in order to put there a building suggested by developer. On this occasion, the problem with the local spatial development plan occurred, which lacks in downtown.
WM: In the case of downtown, it is a big mistake that there is no local development plan. Here too many things are created chaotically, because there is no long-term vision of the city's development.
MŁ: I believe that it is better when there is no local development plan than if there were such plans as are currently being made. Local plans are often too precise. Their authors are trying to create architecture by law, which unfortunately cannot be done. The plans should define the goals only in a framework way: they should determine the line of development, its purpose and intensity- and that would be enough, actually.
The lack of a local development plan in very attractive places in the city center will always be a temptation for investors to build something that does not necessarily fit in with the surrounding architecture, but on which they are able to make good and quick profit.
MS: Let's provocatively reverse the question. And what if there is an investor for the location of today's badly damaged Kotowicz's villa, who wants to build an excellent architecture: an elegant urban villa, inhabited by a few or a dozen families, which is not yet available in Rzeszow, what then?
But what does "high-class architecture" mean? In the past, Rzeszow was full of investors who were supposed to build great buildings in the most beautiful parts of the city, however the ugly ones were created, from the cheapest materials, having nothing to do with great architecture.
WM: And this is where the broad, serious and substantive discussion begins. About the provisions in the Local Plan, the ambitions of architects as well as the responsibility and visions of investors. However, it is very common that the provisions in the Local Development Plan are so ridiculous that it is hard to understand it and, above all, apply it in life.
MŁ: Fortunately, the architectural awareness of Rzeszow's inhabitants is growing. Good architecture starts to sell well. And it is not only about the nice appearance of the building, but most of all about functionality and quality of workmanship. People want a better space. The society of Rzeszow is more and more mature, travels around the world, Europe and Poland, and sees what, where and how is being built.
WM: Of course, a correlation of old and modern architecture is possible, but they must harmonize with each other.
MŁ: In the Anglo-Saxon system, the urban assumptions are very general, but the decision regarding each building is being made on the basis of investor's offer. Such matters are considered individually, because art and quality cannot be decreed by legal provisions. For example, we have a Victorian-style neighborhood, but the architect proposes a very modern building, and if it is beautiful, attractive, if it is accepted by the inhabitants and city authorities in a public debate, then why not build it? It should be similar in Poland. Let's make more public debates about the architectural and urban vision of Rzeszow. Even if we were to argue many times, such discussions are very much needed. Let's not leave it only to the decisions of city planners, let's get involved in the life and appearance of our city.
There is no advisory body in Rzeszow that would reconcile the visions of urban space according to architects, investors, city authorities and, finally, the inhabitants themselves?
MŁ: There is a huge lack of public discussion on projects which are to be developed, especially the controversial ones.
In the campaign before the local government elections, one of the candidates for the presidency of Rzeszow put forward the project of the "Rzeszow City", i.e. a group of high-rise blocks in Staromieście district. How do you feel about this idea?
MŁ: The world doesn't work the way the politicians want. The world works the way it works. Architecture is the art of looking on how the man really functions. Even if a politician decrees that there will be tall buildings somewhere, it won't work. Because people want to live close to the center, near the main communication routes, they want some nice views and so on. It will be like with the market at Wyspiańskiego Street. From time to time, tall buildings should be built in the city, as they create a panorama and just like church towers are the determinant of space, they make it easier for us to navigate in it. The English equivalent of our monument conservation office has been having a plan of the London panorama for many years and knows exactly where to put a tall building, and due to conscious planning of a city panorama sometimes even suggests to make it even taller. This is what a holistic view of the city is all about.
What do you think about the buildings along the Wisłok River?
MŁ: I often go there for a walk, it's chaos. But it must be said clearly that there will be a pressure in Rzeszow to build up the Wisłok valley. That is the natural order of things and people want to live there. We should have had a plan for a long time, which should at least specify the line of buildings along the river. So that the Wisłok valley would not be built up, as in Paris, where the buildings are even located in the riverbed, but in a way that the boulevards and walking paths would have been preserved. If we were to design it, we would first define the building line of both river banks. We would decide which spaces – for example Olszynki or Lisia Góra – should be kept as places like Central Park in New York. The other side of Wisłok , from Podwisłocze , is almost begging to be built up. It would also be necessary to decide what we want to keep as public space and what we allow developers to build up, and to what extent. Today it all happens chaotically and there is no conscious planning.
We are also outraged when we hear from the city: we are selling this area because we have an investor. This way Central Park could be sold in a minute. We understand, however, that there are certain "holy places" that need to be preserved, no matter how brilliant the idea of building them up might be brought.
MŁ: This is true. Any law related to construction, including local law, should set a framework within which people can move. They should not be too detailed, but they should exist. Our colleagues from Wroclaw defined approximately 200 plots within a half kilometer from the market square that required intervention. They identified infills to be built, outbuildings to be demolished and new ones to be built. They found a plenty of "gaps" begging to be filled. In order to replenish a degenerated urban tissue. The urban tissue of Rzeszow is also degenerated, it has a lot of "gaps". Generally, this is a problem throughout Poland. If you saw any of our projects on a macro scale, you would have noticed that there is a so-called schwarzplan, i.e. a drawing of a part of the city in which buildings are colored black. When you look at western cities, they do not have any ''gaps'' there. Rzeszow is similar to the swiss cheese in this aspect. Hole near the hole. It all needs to be completed. Please, just take a walk into the Farny Square, now, in the evening. This is a square like in front of the Barcelona Cathedral, only the scale is smaller, in the size of Rzeszow. A place that should be illuminated, vibrant and bustling. But it's completely dark… with few people. And ground-floor, little representative shacks, standing on Kanałowa Street. This is potential. There should be four-story buildings. There should be services on the ground floor, offices on the first floor, and above them 2-3 floors of apartments. And this square would come to life.
We touch upon an important topic of the "extinction" of the city center. What to do to prevent this?
WM: The cause of the dying out of the center is the imbalance between services and housing. Americans are starting to kick themselves because they have built residential neighborhoods where a dozen lanes on the road are not enough for people to get to the office. And to the shopping centers using the same highway in the afternoon. None of these zones will ever work well by itself. The idea is to make people more eager to use the city center in the afternoons.
We are talking in a restaurant at 3 May Street, the main promenade of the city. Lots of banks, few restaurants. And few people.
MŁ: Copenhagen handled this problem. The local zoning plan prohibited the location of banks on the ground floors of the buildings. They can be located on the upper floors or in outbuildings. Maybe it is worth doing the same here?
Should Rzeszow be a compact city? And what does it mean?
MŁ: Rzeszow is a compact city.
But what turned out on our Business and Style live debate, everyone understands this concept differently.
MŁ: The thing about a compact city is that it is so small that it is easy to walk through, there are no traffic jams and all possible city services are provided. It is such an optimum. The fact that many things still need to be done in the city space is a separate story. People must have space for them to meet. That is why, for example, every 2-3 minutes there should be small squares in the city. There is no random tenement house in the streets of Paris or Barcelona, only four palm trees and a small square where mums with strollers are having a walk. We don't have such a things here. We do the Papal Park in the suburbs, where you have to take a bus. This is absurd. Parks in the city are made for the people who live there, not for excursions.
How does urbanization of Rzeszow's incorporated areas look?
MŁ: It's not there at all. We can even incorporate Łańcut and Przeworsk to Rzeszow, the basic question is: what for? I believe that the incorporation of Słocina and also Malawa is OK, because it is a wreath of hills around Rzeszow. However, the first thing that would have to be done is to determine walking paths and viewpoints, such as in Los Angeles, where the Cadillac comes and people stop to admire the city that they see at a glance.
And our so-called Hill of Lovers in Słocina district? At the best viewpoint in Rzeszow, not so long ago (because now we do not know how it is), stopping was not allowed and the police was giving tickets to people who stopped there for a moment to admire the panorama of Rzeszow.
MŁ: The incorporated areas are the suburbs. Their characteristic is that low-rise buildings are created there, which are easy to design, and at least they do not cause great problems. We have a bigger problem in the center with the railway areas. A tender of less than 30 thousand euro was announced to develop a vision of how a key part of the city will develop over the next 25 years. This is some sort of mistake. A pipe laying company, a paper wholesaler and someone else will enter the tender, this is my forecast. We have areas of military units, Zelmer, Cefarm which will also require similar intervention in a moment.
They will have to be revitalized at any moment. Does anyone think about it?
MŁ: We do think about it, we have made a concept for the development of the area after Zelmer. This is what the local plan should look like. You really don't need much more to plan your investment. There is no need to define what material the benches should be made of or what shape the lamp should have. This is a task to do as part of a detailed project, how is official supposed to know about this at the stage of the general plan ?!
And what happened to this project?
MŁ: Nothing happened. As far as we know, there is no study or draft of the local plan to this day. Students have great material for their diploma theses.
How do you evaluate the idea of a paid parking zone, which is to start functioning at the end of the year? Is this a good direction?
MŁ: This is a good direction because the center needs to be unburdened.
But will the paid parking zone itself solve the problem?
MŁ: It is not going to solve it itself. But it is the first step. A system of paid car parks around the center is needed.
So that in a few minutes you can walk to the very center. But is it possible to persuade people to walking on foot or using public transport?
MŁ: Public transport is not working today, because there are traffic jams in the center and we move slower by bus than on foot. However, if we throw cars out of downtown, the passage for public transport will be cleared. It is all interconnected. If we introduce a paid parking zone, there will be investors who will start building paid parking lots on the outskirts of the city center.
According to research carried out a few years ago by the Warsaw-based company Ecorys, most of the cars parked in the very center of the city are there for over 8 hours. So these are the cars of officials and other employees who are working in the very center.
MŁ: Because there is no alternative. Communication is not able to handle such an officer efficiently, there are no parking lots on the outskirts of the center, etc. The vicious circle ends up. The first thing that should be done is to move offices to cheaper plots of land, where you can get quickly and where large parking lots are possible. To sell expensive urban properties in the city center and finance new investments with this money.
What is necessary to organize the urban space in Rzeszow? Starting from downtown.
WM: We have repeatedly provoked a discussion about the city center in our "community". Because if a local development plan for these areas is finally to be developed, then urban planning competition for the entire city center should be carried out earlier. This would be a guideline for further action which determines the intensity of development and changes the functions. Perhaps some buildings should be demolished and new urban planning directions should be set. But a competition that will select the best idea for the downtown needs to be announced.
MŁ: About a decade ago, a similar competition was organized in Katowice. Such a competition would specify a vision that could be discussed. There is no such vision yet. Because no one looks at the city as a whole.
Maciej Łobos and Marcin Smoczeński, graduates of the Faculty of Architecture of the Cracow University of Technology and Wacław Matłok, a graduate of the Faculty of Architecture of the Wroclaw University of Technology are the founders and co-owners of MWM Architects Studio, which has been operating in Rzeszow for 15 years and is the largest architectural office in south-eastern Poland and one of the largest in