Location:

Arłamow

Client:

Hotel Arłamów SA

Area:

50 000 m2
Type:

Hospitality, Interior Design

Status:

Completed

Design:

2008 - 2013

Construction:

2011 - 2013
Scope:

Concept design, Building permit design, Executive design, Interior and product design
MWM Team:

Marcin Smoczeński, Wacław Matłok, Maciej Łobos, Adela Koszuta-Szylar, Jakub Dudek, Sławomir Czerwiec, Magdalena Dendewicz-Matłok, Aneta Hetnarowicz, Aleksandra Machniak, Agnieszka Pętlak, Piotr Rzeźwicki, Tomasz Kudła, Jakub Brzewski, Magdalena Nobis, Anna Wojtaczka, Małgorzata Krasoń, Magdalena Ligęska, Konrad Jabłoński, Jan Mazur, Jerzy Mazurkiewicz, Katarzyna Targosińska
Colaborators:

Structural Engineer:

Five Project

Machanical & Public Health Engineer:

IMG, Resan

Electrical Engineer:

DF Projekt

Interior Design:

Biuro Projektowe Nowicki,

Consultant:

Horest Hotel Consulting Group

Photo:

Bartosz Makowski, Tadeusz Poźniak, Yellow Frog Studio
Contractor:

RESBEX

Project Management:

CDI Konsultanci Budowlani
Awards:

World Travel Awards - Poland's Leading Hotel 2014

Top Hotel 2014 - Debiut

Prime Property Prize 2014

SPA Inspirations 2014

Be Inspired Award 2014 – Finalist

Hotel z pomysłem 2014

Diamenty Wellness & SPA 2015
Hotel Arłamów is one of the most famous and respected resorts in Poland.
The location in the heart of the Bieszczady Mountains in Natura 2000 area required special respect for the environment and regional building tradition. Arłamów is also a unique story – a former secret resort, which hosted dignitaries of the communist world, as well as the place of isolation of Lech Wałęsa, who spent interning time in Arłamów during martial law.
The rich functional program has been designed on almost 100 hectares of land. In addition to two hotels, the complex includes a full-size sport hall with shooting range, courts, gyms and a climbing wall, a horse riding unit, sport fields, two ski slopes and a golf course. The demand for electricity and heat is covered by its own green heat and power plant.
The heart of the whole complex remains the inner, glass-covered courtyard. Thanks to movable stands, the courtyard space allows to organize various types of events such as balls, concerts, fairs and sporting events.
The hotel has one of the largest SPA complex in Poland.
BIM
From start to finish the design was developed in BIM technology. The possibilities offered by parametric modelling have also been actively exploited. They were used, among the others, to optimize the shape of the roof above the courtyard, to ensure optimal acoustic conditions inside and even distribution of sound intensity over the entire surface of the auditorium.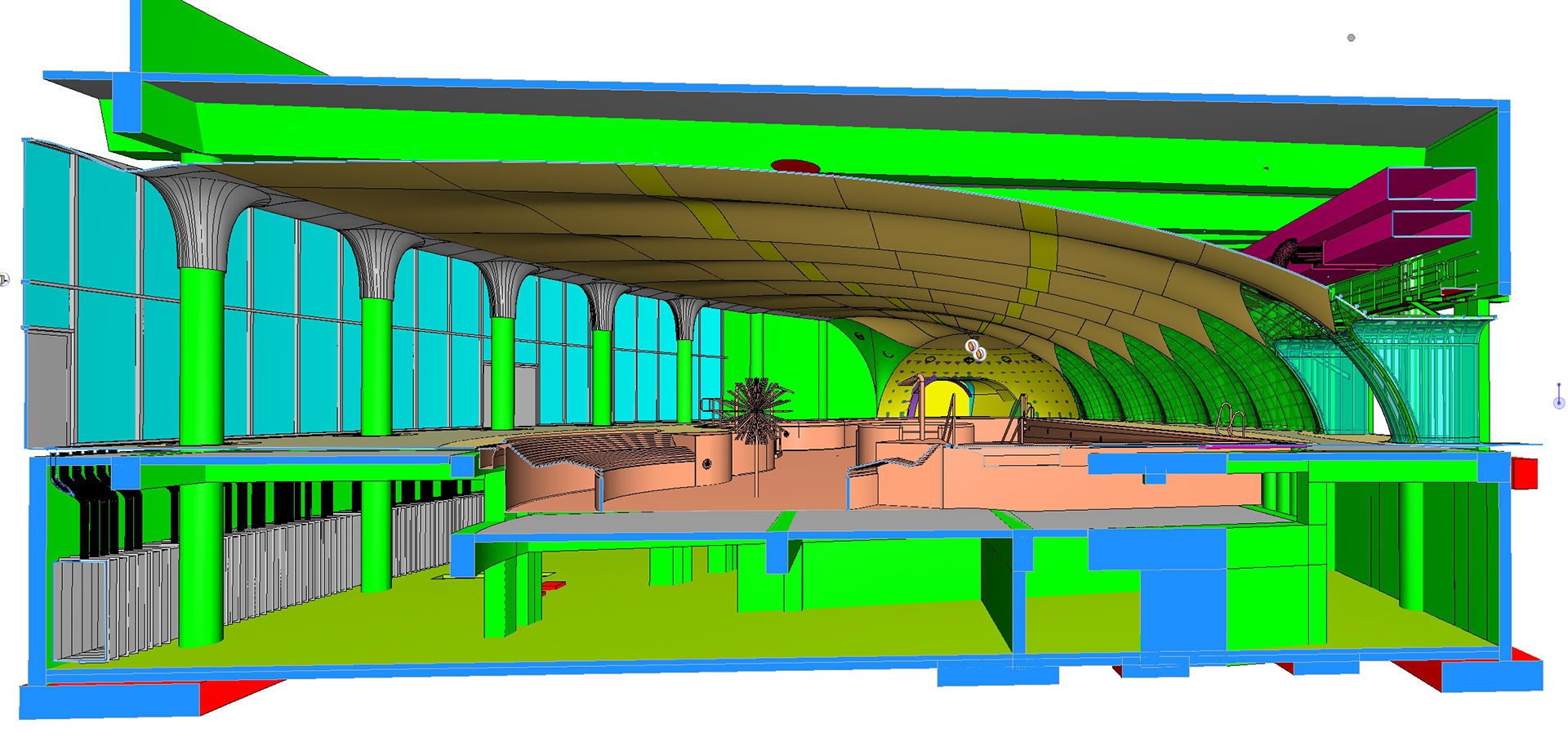 Final presentation of the Arłamów Hotel design at the BE Inspired Awards, London 2014