Location:

Rzeszów, Wieniawskiego

Client:

APKLAN

Area:

28 000 m2
Type:

Multi-family

Status:

Construction

Design:

2019-2020

Construction:

2020-2022
Scope:

Idea, Building Permit Design, Executive Design
MWM Team:

Marcin Smoczeński, Maciej Łobos, Adela Koszuta-Szylar, Joanna Nowak-Magda, Dominika Bednarz, Dawid Bułaś, Jakub Lazarowicz, Łukasz Fedczyszyn, Krzysztof Mazur, Jolanta Majchrowicz, Katarzyna Grabiec, Karolina Kulczycka, Klaudia Nabel, Marek Kowal
Colaborators:

Structural Engineer:

WiS Projekt

Machanical & Public Health Engineer:

E4E

Electrical Engineer:

E4E

Roads and Civil:

All4Roads

Quantity Surveyor:

Leszek Smyk
The main challenge of this project was to provide all residents with direct contact with the surrounding landscape, without distracting the development and at the same time maintaining proper, hierarchical composition of the space. The question we asked ourselves was – how to create a compact quarter of buildings without an internal courtyard?

The answer is "quarter-negative", i.e. a reverse the classic building-yard layout. The development block was placed in the central part of the plot, and the yard on its perimeters. A complex forming coherent, legible whole with a clearly defined border between the zone belonging to the inhabitants and the public area was created. Thanks to slight elevation of the area towards to neighboring streets, it was possible to maintain the integrity of quarterly buildings and the proper hierarchy of space, despite the lack of classic urban frontages.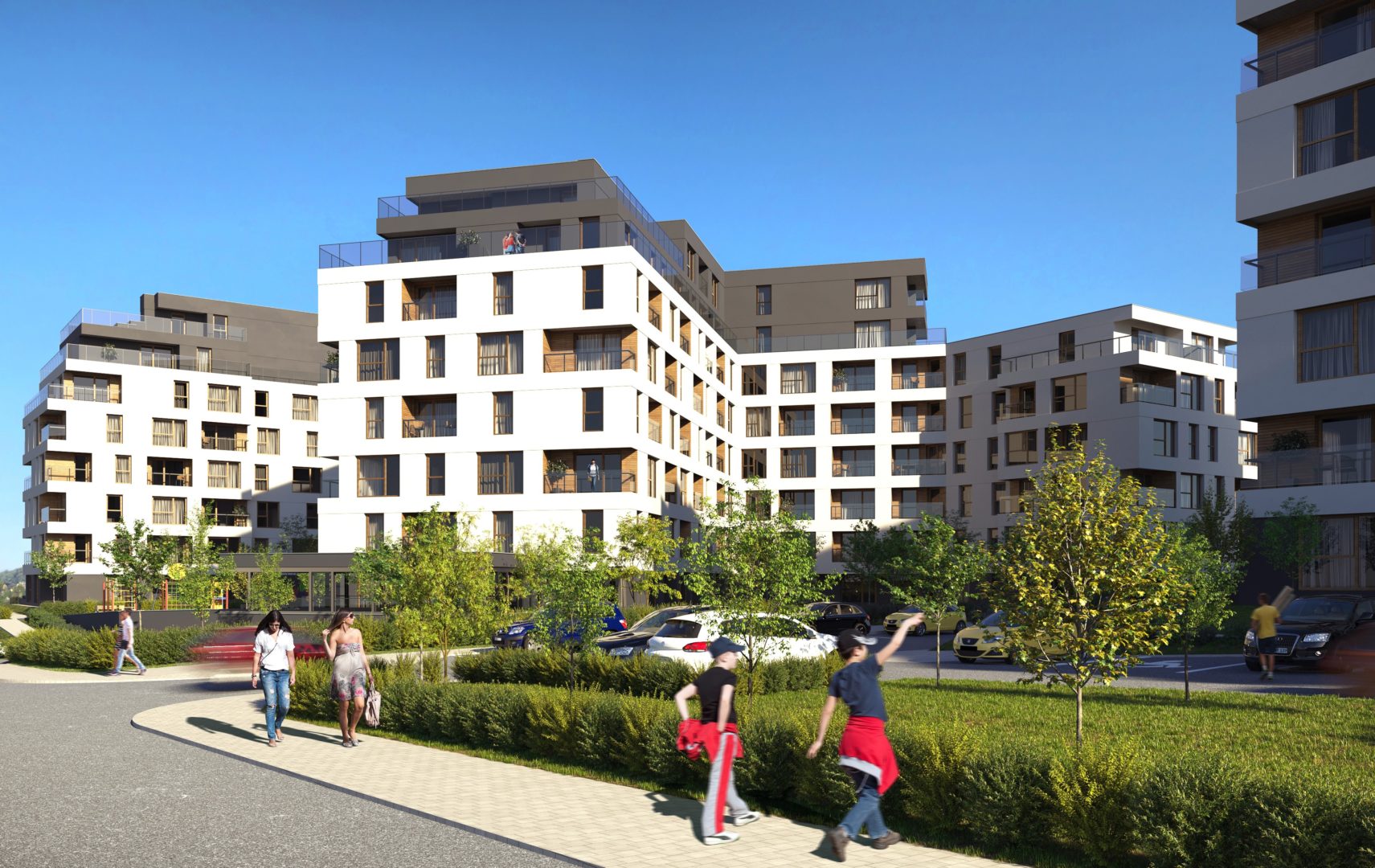 Breaks and fragmentation of the facade have optically reduced large cubature buildings, and also allowed to avoid the effect of monotony. The buildings look differently on each side, and as the passers-by move forward, they can see more interiors and green courtyards located among spreading outside arms of the buildings.